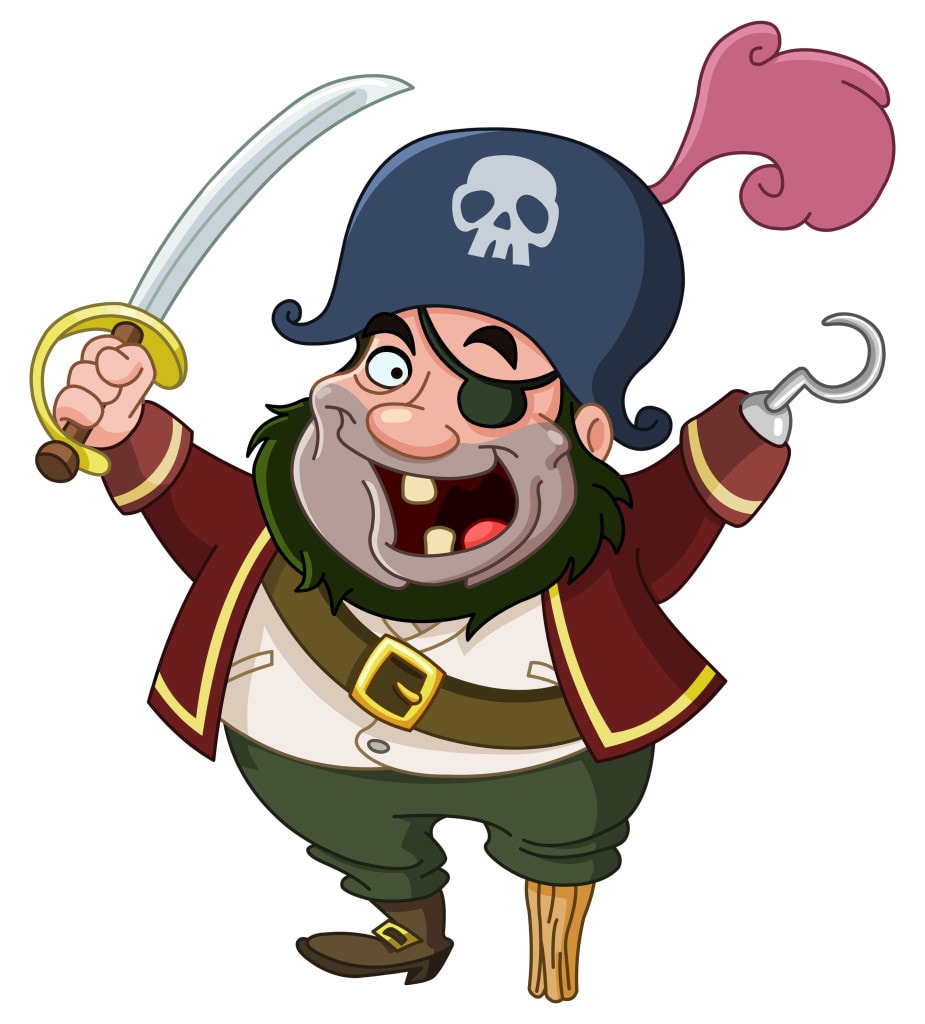 It's time to start rehearsing your "Arrrrg"s and practicing your "Aye!"s because Thursday, September 19th is one of our favorite days –   "Talk Like a Pirate" Day!  Last year, we gave away free Cannons Marina hats to the first 20 people who came into our Ship Store and well, talked like a pirate.  This year, the first 20 people who come in on Thursday, September 19th between 8 am and 5 pm and give us a few good "Arrrg's" or "Yo, matey!"s and rattle off some other pirate jabber, they will receive $50 off a full-day boat rental from Cannons!* That's right, matey's, we don't be jokin'!  Come on in and talk like a pirate and you'll receive some serious booty!
We just love this holiday! Let's get this clear though – we don't like or support real pirates, but this holiday is to honor the silliness of talking like a pirate. Go ahead and try it. Say this out loud: "Ain't that right, matey? Arrg!" See, didn't that feel good?
Now, who was brilliant enough to create a holiday such as this? Two guys from Oregon, John Baur (aka Ol' Chumbucket) and Mark Summers (Cap'n Slappy) had the stroke of genius in 2002 when they decided to declare a holiday devoted to speaking like a pirate. After Dave Barry wrote about the holiday in his Miami Herald column, it gained fame and is now celebrating its 10th anniversary.
To prepare for the holiday, you better brush up on your pirate speak. Here are some of our favorite pirate phrases. Start with the basics of "Arrrg" and "Aye." Instead of saying "hello," greet your mateys with "Ahoy!" Turn your "for"s to "fer" and anything that ends with "ing" will now end with "'n." For example, "fighting" would be come "fight'n and "talking" will now be "talk'n." Make sure to throw in a good "Yo-ho-ho!" every so often. Yer good now? Aye! If you want to get even more official, bust out your eye patch, peg leg and make sure to prepare by watching all your Johnny Depp movies.
Talk Like a Pirate Day is not an official international holiday, it's what's called a "parodic" holiday, but we're celebrating it like it's an official one. It just makes our day a little more interesting. And to REALLY make our day more interesting, we want you to participate in Talk Like a Pirate Day with us! In honor of this silly holiday, stop by Cannons' ship store on September 19th and the first 20 people who come in and talk like a pirate will receive $50 a full-day boat rental from Cannons! Arrrr, that's right, matey. The rules be simple: Come by land or by sea, mateys and speak like yer a pirate to receive some booty! Bonus points for anyone with a parrot on their shoulder!
Our mantra be simple: We be navigatin' fun…arrrg!
*fine print*  One per person, only $50 off per full-day boat rental.